Nothing beats the smell of bread baking in the oven, especially on the first night with a forecast for ice and snow.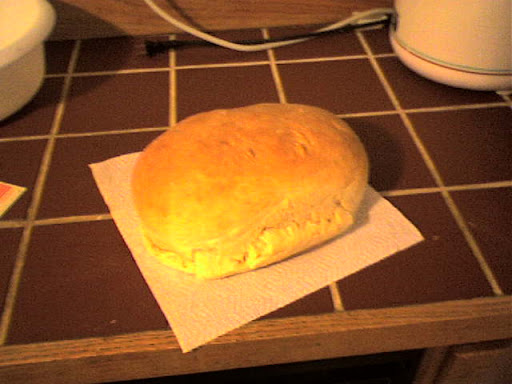 My Bread Recipe
Combine
2 c. bread flour
,
2 c. hot water
,
2 T. sugar
(brown sugar, honey),
2 T. oil
,
2 t. salt
, and
3 packets of Fleischmann's Rapid Rise yeast
. Stir it up and let it sit 8-10 minutes to let the yeast wake up.
Add another
3 c. bread flour
, adding a cup at a time, stirring and kneading until all of the flour is worked in. Knead for 5-10 minutes until the dough is elastic. Let the dough rise in a warm location for an hour.
Beat the hell out of the dough. Slap it down, punch it, beat it up. Then, shape the dough into one or more loaves and place them on a glass 9x13'' pan sprinkled with lots of cornmeal. Bake in a 350 degree oven for 25 minutes.